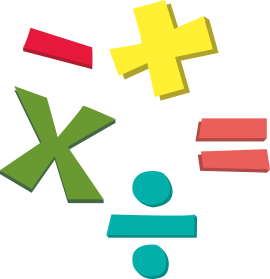 Math symbols Add, Subtract, Muliply and Divide
Four basic maths.
Being in business you need to know the four basic math equations which are add, subtract, multiply or times (depending on your age) and divide.
These are the tools you use to count your money, estimate your expenses, forecast your business and share the wealth with your employees.
The best and most useful tool forecasting tool I learned, years ago, as a member of the American Women's Economic Development was the times by 6 divide by 4 tool. Huh?
The method of time management using 6's and 4's worked.  And, it was accurate for me all the time.
Since I hated those word problems in high school, I hope to be short, specific and helpful to you. A little background, my business was to design and facilitate the physical movement of people in a business environment.  If we were late and people couldn't work on a Monday morning, it would cost hundreds of thousands of dollars in lost production for a company.
Here is the tool we used.
Add up the number of hours needed to get the job done.
For instance –        Design time – Designers working a  40 hour work week  (this may get a bit complicated)
Construction time –provided by the contractor.
New Furniture installation time – provided by the furniture dealership
Move hours – 24 hours for 2.5 days always on a weekend.
Take the answer  multiply it by 6 and divide it by 4. Yes, it is a 25% increase above the original estimate.
As a facility design and engineering firm, we were never late.  The numbers always worked for us.
BTW – I've used it for a variety of time sensitive projects.  It always works.