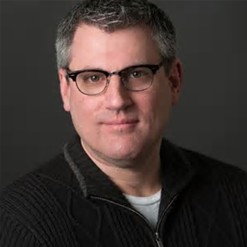 Richard Biever
A huge thank you to Richard Biever.  A musician, writer, director, producer, husband, father, friend and the Producing Artistic Director of FUSE Productions, State College, PA
Why did I look for him and ultimately find him?  As the soprano member of my singing family (we were just a singing family), I found myself unable to carry a tune in a basket. I realized that while I was working in corporate life, I didn't sing very much. At an earlier point in my life, I sang all the time.   Now, it was the Christmas Holidays and while singing carols with my family, I became aware of the missed notes.   Singing in harmony is a team sport.  I wasn't being a team member.
We had recently moved to the State College, PA.  I was an over 55 adult who didn't know anyone. I asked a new Rotary friend if he knew anyone who gave voice lessons.  I didn't want opera type, I needed a "tune up."
Richard Biever and Singing on Stage Studios was the recommendation of Harry Zimbler.  What an awesome experience the next few years were.  Richard tuned up my voice, taught me how to belt out a song and added a little "drama" to my life. He had me try out for a show and I got the role of Madam Dilly, a supporting cast member in "On the Town".
If that were not enough, he helped me write and produce a Cabaret Show, I performed in his studio. He re-introduced me to Sondheim through his group classes. During the classes, we focused on segments of dialogue then sang the music. It was a powerful hour.
 How did he influence you?
The try out for "On the Town" was huge!!!  More than huge. I sang "You can't get a man with a Gun" from Annie Get Your Gun!. I did this in front of the show's  director of the Symphony at Penn State University for an ultimate performance at Eisenhower Auditorium.  This was big stuff.
I never knew I could sing like that.  It was truly an "aha" moment.  Singing soprano in a family group is very different from belting out a song alone in front of a decision maker.  He had me read the lines from the show.  I didn't get the comedy. I was still full of so much oxygen from singing, I wasn't thinking.  I had NEVER done anything like that before. It took me weeks to get over that experience.  I was euphoric.
Richard had taught me something about myself, I never knew. I could connect with an audience. It was a powerful, eye-opening, and moving experience.  An experience like that changes you.
The ultimate impact of my knowing Richard?
My husband and I wrote and produced the musical, "Bridge to Tomorrow" based on the life of Paul Harris, and the historic growth of Rotary International for a Rotary District Conference in Pittsburgh, PA. 2007. Richard, of course, was the director. We had a powerful group of professional musicians supporting this work based on Richards influence.  Heider Biever, Melissa Chavez, Ph.D., David Chavez, Ph.D. to name a few.
The show was a huge success. A wonderful and memorable experience for those who participated as cast members and for the Rotarians who witnessed the performance.
A huge thank you to Richard – there is soooooo much more to share.